I have had a very exciting Christmas, mostly because for once, I got some crafty gifts, or at least gifts that will prove useful in crafting.
Take a look at what goodies I was blessed with:

In my stocking, an ink cartridge. Santa is definitely all knowing because when I was printing out some photos for my December Daily album on 23rd, some were coming out a little bit funky- I.e lacking in blue!! I am so glad I got this because we also got a cool photoframe from my brother and SIL & family, and I've already printed photos for it using my new cartridge.
A bar stool. Oohhhhh, my darling bar stool. Ok, so I know this doesn't seem crafty, but it is. I have a high worktop table where I craft standing up. I love it and wouldn't change it for the world, but sometimes I am tired and don't wanna stand. The normal chairs are too low, so I've been wanting a barstool for ages – one with a back rest. This was a complete surprise so I am very very excited about my barstool.

Blending foam pads
Craig took the hint and bought me these blending pads I've been wanting to buy for a while now.
Distress inks
Another total surprise, and a fantastic one. All wrapped up in a little box I couldn't even attempt to guess what it might have been. I would never have thought that it would have been as fantastic as it was!! Six distress ink pads- pine needles, black soot, faded jeans, worn lipstick, aged mahogany and the embossing ink. I can't wait to get my hands dirty with these.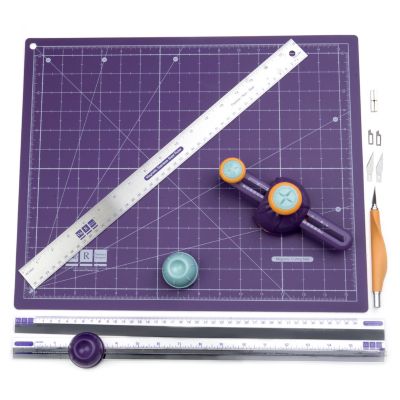 We R Memory Keepers Ultimate Cutting Tool kit
As soon as I saw the shape of the present I had my fingers crossed that this would be the We R Memory keepers pack which includes a magnetic craft mat, some magnets, a craft knife & blades, a metal ruler, a magnetic ruler strip with a rotary cutting and scoring blades, and a magnetic circle cutter. I hope to do a review on this once I get to use it for a while. So watch this space.

Macro filters for my camera. Another pleasant surprise due to an inconspiciously plain box. Four filters to help me take better up close photos, so hopefully this will help achieve detaed photos for you to see.
Gorillapod Tripod
A funky flexible tripod for my camera, to help me take more photographs of tutorials without needing a husband to hold the camera.
And the piece de resistance!! A creative vado HD. This is a handheld video camera very similar to the flip video.
Small & light like a mobile phone, but takes HD video footage. I can't wait to get cracking and make some video tutorials and maybe even some podcasts to share with you all.
Thank you, Thank you, THANK YOU to everyone who helped make my Christmas Crafty.
xx